Polar Bear Full-Size Taxidermy Rug Mount For Sale
Common Name: Polar Bear
Latin Name: Ursus maritimus
Item Number: 21235
Overall Grade: Premier +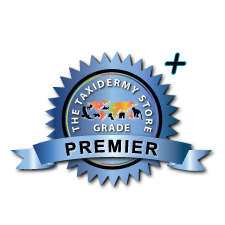 This item is in stock and ready for immediate shipment!
Compare
Description Of Taxidermy For Sale
This is a phenomenal Polar Bear taxidermy rug mount for sale. The rug has been mounted with a full raised head with an open mouth and it features a thick black felt backing which provides durability and protection against wear. This polar bear has beautiful, thick and soft natural white hair not typically found in available polar bears, the hair has been trimmed and finished in a thick black felt accent border. What sets this rug apart is the masterful taxidermy craftsmanship and detail exhibited in the artistry of the face of this bear. It is truly remarkable and reflects a lifetime of perfecting the artistry of taxidermy. All of these factors combine to earn this rug our prestigious Premier Plus™ overall quality rating. All applicable dimensions are included to help ensure this item will fit within your intended display space.
With every passing year, it becomes more and more difficult to find Polar Bear rugs that would make our ranking of Excellent or higher. The vast majority of Polar bear rugs we see would receive our Vintage™, Fair™ or Nice™ overall rating. Finding a Premier Plus™ rated rug is extraordinarily difficult & rare!
– This rug was imported to the U.S. Pre-1972 – making it legal to sell and in compliance with the Marine Mammal Act of 1972. All legal document(s) will transfer to the purchaser upon delivery.
– This rug is best displayed on the floor. We could install hangers to the back of the rug if the purchaser desired to hang it on the wall.
– We do not recommend foot traffic, especially with boots or shoes. If it must be walked on, Slippers or socks will minimize wear of the rug.
Specifications
Dimensions:*
Height:

8″

Length w/ Tail:

96″

Width (Front Feet):

80″

Width (Back Feet):

65″
DELIVERY OF YOUR ITEM VIA FREIGHT SERVICE
This item ships FREE via Freight Delivery.
When items are too large to ship with a common carrier (UPS, FedEx, etc) we are then required to ship with a freight service, which will deliver your shipment on a semi truck. We utilize a variety of freight carriers to quickly and safely transport large shipments to our clients around the U.S.
We pack and ship all of our items with a dedication to safe and secure transit, and over 40 years of taxidermy-shipping experience, utilizing innovative new ways to pack your order in a wooden crate, ensuring it arrives to you in the exact same condition that it left our store.
If your item is shipping via freight, please let us know if the destination is a Residence or Business, as well as a Phone Number(s) for the delivery location so that the freight company can contact you to set up a specific delivery date and time when your package gets close to its final destination.
UNLOADING YOUR FREIGHT SHIPMENT
When the shipment arrives, it is the CUSTOMERS responsibility to have either a forklift or enough strong helping hands available to unload the item from the back of a semi truck to the ground and then to its final destination.
For an additional fee, we can arrange to have a semi truck trailer that is equipped with a lift gate that will lower the crate to the ground. This service ONLY lowers the crate off of the semi truck to the ground, it DOES NOT provide service to move the crate from the spot it is unloaded into your house or business. This lift gate service can be of great help to those that do not have access to a forklift or small crew of people to assist in lifting/lowering the crate to the ground. If you would like this option, you MUST contact our store for a shipping quote that includes this lift gate service.