Central African Giant Eland Taxidermy Shoulder Mount For Sale
Common Name: Eland
Latin Name: Taurotragus derbianus gigas
Item Number: 25147
Overall Grade: Premier +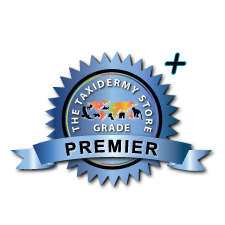 This item is in stock and ready for immediate shipment!
Compare
Description of Taxidermy For Sale
For sale, we have a magnificent African Lord Derby Eland shoulder taxidermy mount, posed in a regal upright position looking to the viewers right out into the room. We often see Lordy Derby Elands with large scars and range marks, but this specimen is in phenomenal shape. The Eland itself features a professionally tanned hide, outstanding hair, and a huge set of horns that earn a Safari Club International Silver Medal with a score of 121 4/8″. All applicable measurements and dimensions are provided in the specifications section to help ensure this item will fit within your intended space, as well as meet expectations regarding the item's featured attribute sizes, scores, etc.
– This African Lord Derby Eland exceeds the Safari Club International Silver Medal trophy book score requirement.
– There is already a hanger attached to the back of this item.
– The item will hang on a properly anchored drywall screw.
Specifications
Dimensions:*
Depth:

42″

Height:

80″

Width:

32″

Weight:

50 lbs

Horn/Antler Length (L):

47 3/8″

Horn/Antler Length (R):

47 6/8″

Base Circumference (R):

13 1/8″

Base Circumference (L):

13 2/8″

Gross Score (Decimal):

121.50″

SCI Score (Fractional):

121 4/8″
This item ships FREE via Standard Delivery to the lower 48 states.
We use a variety of carriers, including USPS, FedEx, UPS & Spee-Dee Delivery, choosing each carrier based on the weight, dimensions and destination of your order.
We pack and ship all of our items with a dedication to safe and secure transit, and over 40 years of taxidermy-shipping experience, utilizing innovative new ways to pack your order (box or crate), ensuring it arrives to you in the exact same condition that it left our store.
*Delivery to Alaska or Hawaii may incur an additional shipping surcharge based on the weight and dimension of the item purchased.