Black Bear Cub Life-Size Taxidermy Mount For Sale
Common Name: Black Bear Cub
Latin Name: Ursus americanus
Item Number: 25652
Overall Grade: Premier +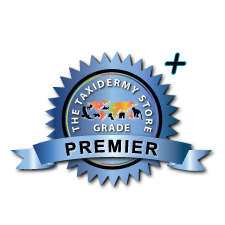 This item is in stock and ready for immediate shipment!
Compare
Description of Taxidermy For Sale
We have a magnificent Black Bear Cub life-size taxidermy mount for sale. This near-flawless bear cub is posed standing on a custom-made walnut wood base reaching up inquisitively towards the hornet's nest. We hope this cutie doesn't get stung! The Cub itself features the classic jet-black hair, an incredible hide, and masterful taxidermy craftsmanship. Black Bear Cub mounts are highly sought after since it's not something you see every day, so don't miss your chance to own one today! All applicable measurements and dimensions are provided in the specifications section to help ensure this item will fit within your intended space, as well as meet expectations regarding the item's featured attribute sizes, scores, etc.
– Great for a mantle, shelf, ledge, table, or countertop.
– Don't wait as this item will not last long!
Specifications
Dimensions:*
Depth:

24″

Height:

52″

Width:

36″

Weight:

25 lbs
This item ships FREE via Standard Delivery to the lower 48 states.
We use a variety of carriers, including USPS, FedEx, UPS & Spee-Dee Delivery, choosing each carrier based on the weight, dimensions and destination of your order.
We pack and ship all of our items with a dedication to safe and secure transit, and over 40 years of taxidermy-shipping experience, utilizing innovative new ways to pack your order (box or crate), ensuring it arrives to you in the exact same conditon that it left our store.
*Delivery to Alaska or Hawaii may incur an additional shipping surcharge based on the weight and dimension of the item purchased.